Fuzhou, January 14 (reporter Gong Wen) from 11 to 13, the first China ASEAN network red conference was held in Fuzhou, China.
2021 marks the 30th anniversary of the establishment of China ASEAN dialogue relationship. China ASEAN has been upgraded from "strategic partnership" to "comprehensive strategic partnership". With the entry into force of the regional comprehensive economic partnership agreement (RCEP) in 2022, China and ASEAN have moved forward hand in hand with new empowerment.
The first China ASEAN network red conference was held to further promote China ASEAN practical cooperation to a new level and boost the development of digital economic cooperation between the two sides and the common feelings of the people.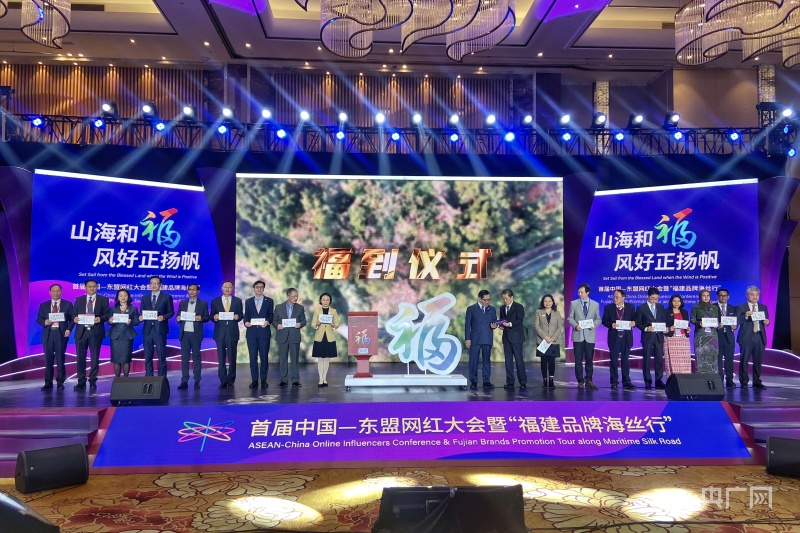 Fu arrival ceremony (cctv.com reporter Gong Wen)
"Standing at thirty" tells a good new story
The theme of this online Red conference is "mountains and seas, good wind, and sailing". Representatives of multi-national network celebrities shared vivid stories of their participation in China ASEAN people to people exchanges at the conference, and interpreted the leaping youth notes in China ASEAN non-governmental exchanges.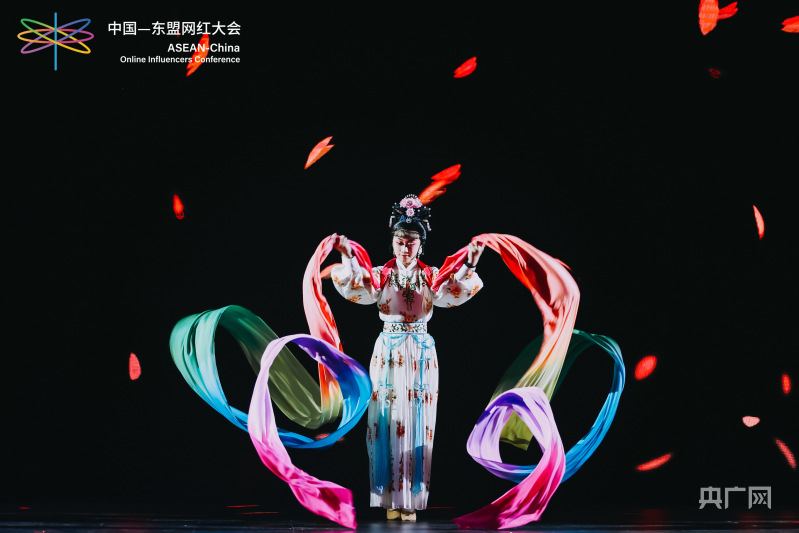 Fujian characteristic art performance on the scene of the conference
In his speech at the conference, Indonesian ambassador to China Zhou Haoli said that the holding of the conference is consistent with the theme of friendly exchanges between China and ASEAN, and is also a reflection of the growing cooperation between the two sides in the fields of culture, economy and trade.
During the conference, ASEAN diplomats in China, experts and scholars, media representatives, China Internet Celebrities ambassadors and ASEAN Internet Celebrities visited Fuzhou digital economy enterprises, experienced Fujian characteristic culture, and focused on China ASEAN Economic and trade cooperation and people to people exchanges through the combination of "offline visit + online interaction + social media matrix boost", Carry out multi-level dialogues and visits.
From "dialogue relationship" to "comprehensive strategic partnership", China ASEAN has walked out of a bright road of good neighborliness, friendship and win-win cooperation. China ASEAN stands at a new historical starting point with the official departure of the next 30 years.
On January 1, 2022, RCEP was officially put into operation. The proportion of zero tariff products between China and ASEAN and other member countries has been greatly increased, and the goal of realizing zero tariff for more than 90% of goods trade is moving forward, releasing the huge potential of regional trade growth. China ASEAN Economic and trade cooperation ushers in new opportunities.
Zhou Haoli said that even during the epidemic period, China and ASEAN maintained sustainable growth momentum. In 2021, China will surpass other countries and become ASEAN's largest trading partner. "We need to maintain the fruits of cooperation so as to achieve global economic recovery."
In depth dialogue to explore new opportunities
In the dialogue session of the conference, the envoys of ASEAN countries in China, Chinese experts and scholars and Internet Celebrities conducted exchanges and discussions on topics such as "promoting China ASEAN Economic and cultural exchanges with the help of the Internet platform", "online Red economy under the new RCEP framework", "jointly promoting online Red economy and cross-border e-commerce cooperation".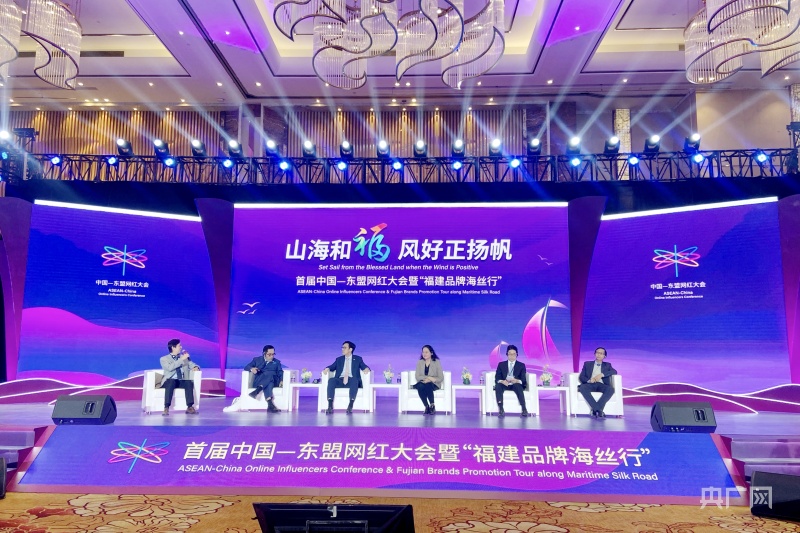 Dialogue session of the conference (cctv.com reporter Gong Wen)
According to Wang Qin, Professor of the school of international relations of Xiamen University, the first online celebrity Conference opened the first step for cross-border e-commerce to enter the ASEAN market under the new RCEP framework.
"RCEP is a great opportunity for cross-border e-commerce, providing a broader market." In an interview with the reporter, Wang Qin said that in the face of the differences in development level, political system, religious culture, customs and habits, interactive structure, consumption patterns and groups in a diversified market, cross-border e-commerce and online celebrity related enterprises should do a good job in basic skills, be familiar with the rules of cross-border e-commerce under RCEP, and understand and deeply cultivate this market.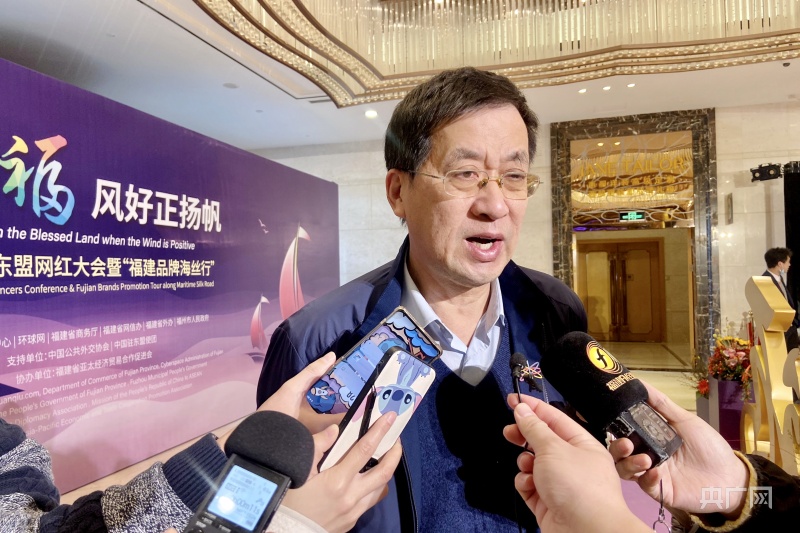 Wang Qin, Professor of international relations, Xiamen University
Hu Zhengyue, vice president of the China Public Diplomacy Association, said in his speech at the conference that the online celebrity conference is a new attempt and a new platform to strengthen people to people exchanges between China and ASEAN. He welcomed the Internet Celebrities of China and ASEAN to join in the great cause of enhancing the friendship between the two peoples and use their influence to introduce their own countries and each other.
During the two-day field visit, the representatives visited Yongrong holding group, Haishi digital intelligence center and Fuzhou Software Park to deeply understand the development of digital industry and the application of digital technology in Fujian, and exchange the advantages and experiences of digital economy development.
"Fuzhou is a very modern city, where high-tech industries gather." On January 11, the counsellor of Myanmar Embassy in China, Du aimenb, expressed such feelings after visiting the sea lion number intelligence center. Duemengbo said that Myanmar's e-commerce industry is in its infancy and development stage, and she hopes to share her visit experience with the Burmese people and welcome more Chinese investors to invest in Myanmar's e-commerce platform.
Hu Zhengyue said that China and ASEAN are each other's largest trading partners. With the implementation of RCEP and the continuous promotion of the "belt and road" cooperation project, the cake of bilateral cooperation will become bigger and bigger.
Editor: ye Xingzhu
Original copyright prohibited commercial reproduction
Authorization > >
Please contact us at 010-56807194 for reprinting application and reporting illegal infringement
Long press QR code
Focus on the highlights